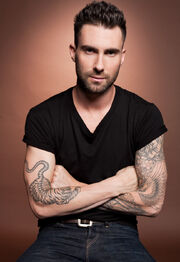 Adam Noah Levine (born March 18, 1979) is an American pop-rock singer-songwriter and musician who is a friend of Taylor Swift's. He's best known as both the lead singer of the platinum-selling pop-rock band Maroon 5 and as a mentor on the hit NBC singing show The Voice.
Career
Born and raised in Los Angeles, Levine started his career in 1994 as lead singer and lead guitarist of a band called Kara's Flowers, who split up after the failure of their only album, The Fourth World. He later reformed the band, now called Maroon 5, and added a fifth member. Their debut album, Songs About Jane, was released in 2002 and was a major success. The band has since released 4 more albums, all of them going platinum. They have also won 3 Grammy Awards.
The Voice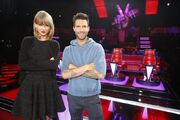 In 2011, Levine joined country music star Blake Shelton, pop superstar Christina Aguilera, and R&B star Cee Lo Green as a coach on the NBC singing show 
The Voice
. The show has been a huge success with Levine having mentored 3 of the show's 9 winners. The show, which has won 3 Emmy Awards, started its tenth season on February 29, 2016. Taylor was a guest advisor to Levine and his fellow coaches Blake Shelton, Gwen Stefani, and Pharrell Williams during season 7.
Acting
In addition to his music career and his work on The Voice, Levine decided to try his hand at acting when he got a recurring role as a newlywed photographer on the second season of the hit FX show, American Horror Story. He also made his feature film debut in the film Begin Again opposite Keira Knightley and Mark Ruffalo, which was released on June 27, 2014. One of Levine's other co-stars in the film is one of Taylor's friends, Hailee Steinfeld.
Collaborations
In addition to his work with Maroon 5, Levine has collaborated with several artists including Gym Class Heroes ("Stereo Hearts"), Alicia Keys ("Wild Horses"), Slash ("Gotten"), and 50 Cent ("My Life").
Personal Life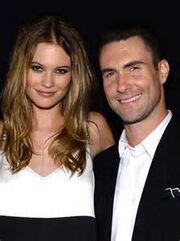 Levine married Victoria's Secret model Behati Prinsloo on July 19, 2014 in Cabo San Lucas, Mexico.The couple had been dating since 2012. She even appeared in the music video for Maroon 5's hit single "Animals". The couple have a daughter, Dusty Rose, who was born on September 21, 2016.
Gallery
Official Accounts