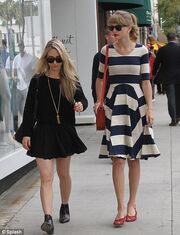 Ashley Avignone is one of Swift's closest and best friends. Her name is the first to appear in the secret message of Swift's song, 22. 
According to Cosmopolitan Magazine, Avignone is a designer who lives in Nashville, Tennessee. 
Swift and Ashavignone are often seen together dressing up or attending parties together with Dianna Agron and Claire Kislinger. 
Ad blocker interference detected!
Wikia is a free-to-use site that makes money from advertising. We have a modified experience for viewers using ad blockers

Wikia is not accessible if you've made further modifications. Remove the custom ad blocker rule(s) and the page will load as expected.