During an interview with Hamish & Andy, Taylor Swift decided to improvise a song.
Lyrics
Taylor: ewww, Chaperone dads
Guy1: I mastered tambourine
Audience: laughter

Taylor: ewww, you just got off work, the last thing you do, want to do, is to go and listen to me talk about some breakup
Guy2: Chaperone dads
Taylor: you doing the right thing
Guy2: Chaperone dads
Taylor: remember when the tickets went on sale, your daughters 14th birthday, and you got two tickets, and she said can I have some more because my friends all want to go dad, you don't have to go, but you know you got to go and chaperone
Video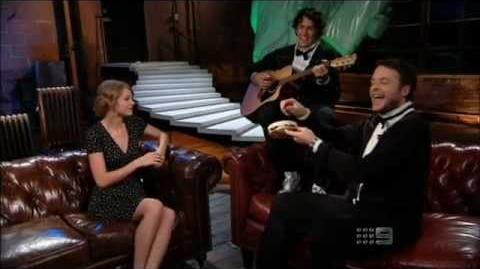 Ad blocker interference detected!
Wikia is a free-to-use site that makes money from advertising. We have a modified experience for viewers using ad blockers

Wikia is not accessible if you've made further modifications. Remove the custom ad blocker rule(s) and the page will load as expected.