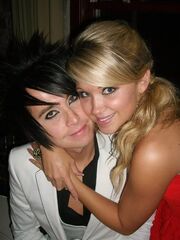 Claire Callaway is a dancer and Grant Mickelson's girlfriend. She was born in Huntsville, Alabama, on December 21, 1987. Callaway has been Swift's dancer since the 2009 Fearless Tour. She also has a daughter, Maddie Laine, who is more commonly known as Lulu. Claire has appeared in quite a number of Swift's music videos such as Love Story, You Belong with Me, The Story Of Us and Sparks Fly. She is who plays the bride in Speak Now  live performances. Callaway did not appear on the Red Tour or the 1989 World Tour.
References
Ad blocker interference detected!
Wikia is a free-to-use site that makes money from advertising. We have a modified experience for viewers using ad blockers

Wikia is not accessible if you've made further modifications. Remove the custom ad blocker rule(s) and the page will load as expected.