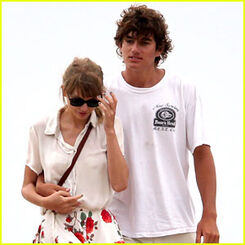 Conor Richard Kennedy (born July 24, 1994) is the son of radio host, activist, and environmental lawyer Robert F. Kennedy, Jr and a member of the famous Kennedy family. The song Begin Again, which is off of Taylor's 2012 album Red, is possibly about him.
Conor dated Taylor Swift in the summer of 2012. The two even crashed the wedding of Conor's cousin Kyle, which garnered headlines especially after her mother Victoria complained to the press about Conor and Taylor crashing it.
Conor and Taylor reportedly split in October 2012.
Ad blocker interference detected!
Wikia is a free-to-use site that makes money from advertising. We have a modified experience for viewers using ad blockers

Wikia is not accessible if you've made further modifications. Remove the custom ad blocker rule(s) and the page will load as expected.