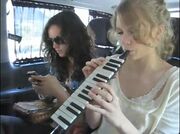 Picked up during her Asian Tour, shown on her YouTube channel [1], this instrument is apparently a flute and a piano combined. It was specially built by an army of waving mechanical cats.
Its official name is melodica, and you can find a Wikipedia article about it at Wikipedia:Melodica.
Ad blocker interference detected!
Wikia is a free-to-use site that makes money from advertising. We have a modified experience for viewers using ad blockers

Wikia is not accessible if you've made further modifications. Remove the custom ad blocker rule(s) and the page will load as expected.