Taylor Swift is currently dating English actor Tom Hiddleston, 35, who is best known for his work as Loki in the films Thor, The Avengers, and Thor: The Dark World. They were first photographed kissing on the private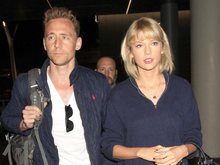 beach next to her house in Rhode Island, on June 15. They have since been photographed together in Nashville, London (where Taylor met Tom's parents after just ten days), and Rome. Tom was a guest at Taylor's annual 4th of July party in Rhode Island. The relationship has been subject to extreme publicity and media attention, with almost every mainstream outlet pondering whether the relationship is genuine or a publicity stunt. Taylor hasn't publicly spoken about the relationship all though Tom later admitted to it in an interniew with the Hollywood Reporter on July 14, 2016. Since July 6, they have been staying on the Gold Coast in Australia, as Tom works on the film Thor: Ragnarok. 
See List of Taylor Swift's ex-boyfriends for Taylor's past relationships, and the songs inspired by them.