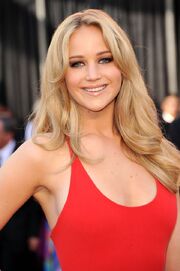 Jennifer Shrader Lawrence (born August 15, 1990) is an American actress who is a friend of Taylor Swift's. The two have been seen hanging out together, and Jennifer even photobombed Taylor at the 2014 Golden Globes.
Career
Born in Louisville, Kentucky, Lawrence first gained notice when she co-starred on the TBS series The Bill Engvall Show. She moved on to movies where she has acheived great success. She earned the first of three Academy Award nominations for her role in the 2010 film Winter's Bone. She later won the Academy Award for Best Actress for 2012's Silver Linings Playbook.
Jennifer then acheived greater success when she was cast as Mystique in 2011's X-Men: First Class, but her best-known role to date is that of Katniss Everdeen in The Hunger Games, The Hunger Games: Catching Fire, and The Hunger Games: Mockingjay - Part 1. All three films were huge hits at the box-office. Jennifer will again star as Katniss in the film The Hunger Games: Mockingjay - Part 2 when it's released on November 20, 2015.
Personal Life
Jennifer dated her 
X-Men 
co-star Nicholas Hoult from 2011-2014. They briefly broke up in January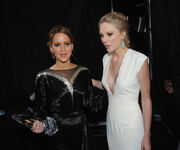 2013 but reconnected in July 2013 when they started working on 
X-Men: Days of Future Past,
which was released on May 23, 2014. She was later romantically linked to Coldplay lead singer Chris Martin, the former husband of one of Taylor's friends, actress
Gwyneth Paltrow
.
Friendship with Taylor
Jennifer and Taylor have mutual friends in common including Hailee Steinfeld and Emma Stone.
Ad blocker interference detected!
Wikia is a free-to-use site that makes money from advertising. We have a modified experience for viewers using ad blockers

Wikia is not accessible if you've made further modifications. Remove the custom ad blocker rule(s) and the page will load as expected.