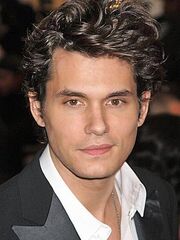 John Clayton Mayer (born October 16, 1977) is an American singer-songwriter, guitarist, and producer who dated Taylor Swift. The two had worked together on the song "Half of My Heart" for his 2009 album Battle Studies. Taylor's song off of her 2010 album Speak Now, "Dear John", is about him. 
Mayer, who was born in Bridgeport, Connecticut, released his first album, Room for Squares, in 2001 and has achieved success since then with such hits as "Your Body is A Wonderland", "Daughters", and "Gravity". He has won 7 Grammy Awards. 
His last album, Paradise Valley, was released on August 20, 2013. He is now working on a new album.
Personal Life
Edit
Mayer has become notorious for his personal life, which has attracted tabloid attention. In addition to having dated Taylor, Mayer has also dated such stars as Jessica Simpson, Jennifer Aniston, Cameron Diaz, and Minka Kelly. He's also openly discussed his private life with the media. Mayer was in an on-off relationship with one of Taylor's enemies, singer-songwriter Katy Perry, which has attracted tabloid headlines. The two worked together on the song "Who You Love" for his album, Paradise Valley.
Some suspect that Mayer may be part of the reason why Taylor and Katy are reportedly feuding.
Ad blocker interference detected!
Wikia is a free-to-use site that makes money from advertising. We have a modified experience for viewers using ad blockers

Wikia is not accessible if you've made further modifications. Remove the custom ad blocker rule(s) and the page will load as expected.