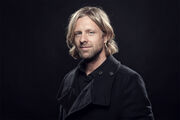 Jon Foreman is Lead Singer from Californian Rock band Switchfoot who Taylor Swift asked to duet with her in her Speak Now World Tour. The song they sang was Meant To Live from Switchfoot's fourth album The Beautiful Letdown. He plays Guitar and is Christian, like Taylor.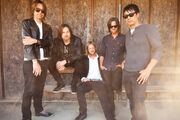 Rock band Switchfoot has five members:
Jon Foreman (Lead Singer),
Tim Foreman (Jon's Brother and Bass Player),
Chad Butler (Drummer),
Drew Shirley (Lead Guitarist),
Jerome Fontamillas (Keyboardist).
Jon, Tim, and Chad met in High School. Then, Drew and Jerome joined.
Ad blocker interference detected!
Wikia is a free-to-use site that makes money from advertising. We have a modified experience for viewers using ad blockers

Wikia is not accessible if you've made further modifications. Remove the custom ad blocker rule(s) and the page will load as expected.