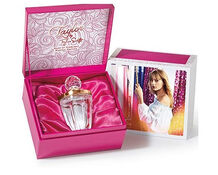 Made Of Starlight is the spin-off perfume of Taylor By Taylor Swift. It's name come from Taylor Swift's song "Starlight" with the lyric "Like we're made of starlight". It's the second spin-off perfume Taylor has released. The perfume originally came in a musical box that played the song "Starlight" but is now also sold in a regular box. It was released on February 1st 2014.
The only other form Made Of Starlight comes in other than the perfume is a roller ball.
Appearance
Made Of Starlight has the same bottle look and shape as Taylor By Taylor Swift, except the top of the bottle is white with pink swirls. Instead of the pearls like Taylor By Taylor Swift had, Made of Starlight has a line of the same design as the top of the bottle wrapping around the cap.
Ad blocker interference detected!
Wikia is a free-to-use site that makes money from advertising. We have a modified experience for viewers using ad blockers

Wikia is not accessible if you've made further modifications. Remove the custom ad blocker rule(s) and the page will load as expected.