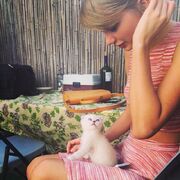 In June of 2014 Taylor got a new cat she named Olivia Benson after the character portrayed by Mariska Hargitay on Law & Order: SVU.
Olivia is featured in Taylor's new Diet Coke commercial, and also appears in many of her instagram videos/photos. She and Meredith even appear in an Instagram photo taken by Taylor's boyfriend, Calvin Harris, which he captioned "Moment".
Like Meredith, Olivia Benson is a Scottish fold cat.
Ad blocker interference detected!
Wikia is a free-to-use site that makes money from advertising. We have a modified experience for viewers using ad blockers

Wikia is not accessible if you've made further modifications. Remove the custom ad blocker rule(s) and the page will load as expected.