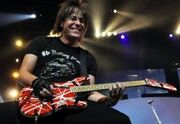 Paul Sidoti plays guitar and sings background vocals for Taylor Swift. He's the most loyal one in the band.
He was born on May 19 in Cleaveland, Ohio. He started playing the guitar at the age of 5. Along the way, he taught himself keyboards, bass and drums. Took lessons on Saxophones through Junior high and High school. He started singing and playing in his own rock band at the age of 14.
When he went to audition the only guitar he had with him was a homemade one.
Paul loves Kiss (the band). Taylor Swift mentioned this in one of her video blog's. On his birthday they planned on making a Kiss cake, and get one of the band member of Kiss on a phone. And they handed the phone to Paul, so the band member can say Happy Birthday.
Paul proposed to his girlfriend, Ashley, during the Speak Now World Tour in Dublin, Ireland, and they got married during the American Leg of the tour.
He's living a rock and roll life.
He even has his own fansite: http://www.paulsidoti.net/
External Links
Edit