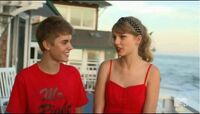 On the MTV television show Punk'd, Taylor Swift's worst nightmare comes true when she gets "Punk'd" by Justin Bieber.
Fellow singer Taylor Swift is invited to 'his' Malibu beach-house and pushed to help try out some fireworks from a Japanese promoter, which supposedly set a yacht on fire, ruining a wedding.
The full episode was shown on March 29th, 2012.
Video
Ad blocker interference detected!
Wikia is a free-to-use site that makes money from advertising. We have a modified experience for viewers using ad blockers

Wikia is not accessible if you've made further modifications. Remove the custom ad blocker rule(s) and the page will load as expected.