Taylor Swift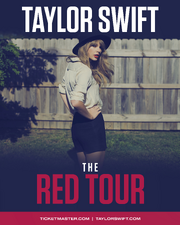 The
Red Tour
is the third worldwide concert tour by American singer-songwriter
Taylor Swift
. The tour was launched in support of Swift's fourth studio album,
Red
(2012).
Background
On October 25, 2012, in partnership with ABC News on the prime-time TV special All Access Nashville with Katie Couric – A Special Edition of 20/20, Swift announced that she will launch a North American stadium and arena tour in early 2013 in support of her fourth studio album Red (2012). During a radio interview with WRVW, Swift mentioned that "It's nothing like any other tour before."
Swift told Billboard: "Of course, you know the tour will be a big representation of this record," Swift tells Billboard. "I'm so excited to see what songs the fans like the most and which ones jump to the forefront, because that's the first step. We always see which songs are really the passionate songs and the ones the fans are freaking out over the most, and those are the ones that are definitely in the set list. I can't wait for that."
Swift used Tom Petty's "American Girl" as her entrance song on her previous tour but now takes the stage to Lenny Kravitz's version of "American Woman". She sings a cover of The Lumineers's "Ho Hey" nightly, intertwined with her own "Stay Stay Stay".
Opening Acts
Ed Sheeran (North America)
Austin Mahone (North America, select venues)
Joel Crouse (North America, select venues)
Brett Eldredge (North America, select venues)
Casey James (North America, select venues)
Florida Georgia Line (North America, select venues)
Set List
The following set list is representative of the show on March 27, 2013. It is not representative of all concerts for the duration of the tour.
"Red"
"Mean"
"22"
Secret Song
Shows
The Red Tour began on March 13, 2013 and Taylor played over 50 shows in North America, the first leg of the tour. She plans to resume the tour and play Leg 2 and Leg 3 in New Zealand, Australia, England, and Germany. The next show is set for November 29, 2013 in Auckland at Vector Arena.
Trivia
"Stay Stay Stay" was cut from the set list halfway through the tour.
A bug flew in Taylor's mouth during "Love Story" in Chicago, IL.
In Nashville, TN, Taylor performed sick.