Sarah Jane Hyland (born November 24, 1990) is an American actress who is a friend of Taylor Swift's.
Career
In addition to being a friend of Taylor's, Sarah is best known for her role as Haley Dunphy on the Emmy Award-winning ABC series Modern Family. She has also appeared in films such as Spanglish opposite Adam Sandler and Struck by Lightning opposite Glee star Chris Colfer.
Personal Life
Sarah dated actor Matt Prokop, whom she met when both auditioned for roles in High School Musical 3: Senior Year, from 2009-2014. The two co-starred in the 2011 Disney Channel movie Geek Charming. However, on September 19, 2014, Sarah filed for and received a temporary restraining order against Prokop, accusing him of domestic violence.
Friendship with Taylor
Sarah recently celebrated New Year's Eve with Taylor where they were photobombed by Taylor's adorable Scottish Folds cat, Meredith. She was even a guest at the 18th birthday party that Taylor threw for Fifth Harmony singer
Camila Cabello
.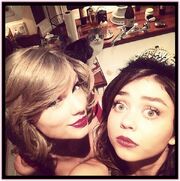 Ad blocker interference detected!
Wikia is a free-to-use site that makes money from advertising. We have a modified experience for viewers using ad blockers

Wikia is not accessible if you've made further modifications. Remove the custom ad blocker rule(s) and the page will load as expected.