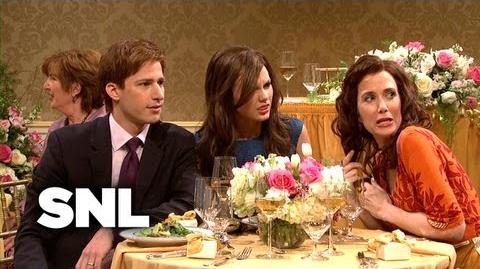 Saturday Night Live, better known as SNL, is an American television sketch comedy and variety show that debuted on NBC on October 11, 1975. Taylor Swift hosted and performed as a musical guest on (someone look up the date and post it here).
Skits she did
1.Taylor Swift Monologue: Monologue Song
2.Firelight
3.Penelope: Man and Wife
4.The View: Kate Gosselin
5.Hollywood Dish:Taylor Swift
6.Scared Straight: Lorenzo and Skeet Devlin
7.Roomies
8.Save Broadway
9.Driving PSA
10.Backstage:Firelight
11.Bunny Business

Other appearances
She did a brief funny appearance on the April 12, 2014 episode.
For the 40th Anniversary Special she was on a sketch called The Californians.
Ad blocker interference detected!
Wikia is a free-to-use site that makes money from advertising. We have a modified experience for viewers using ad blockers

Wikia is not accessible if you've made further modifications. Remove the custom ad blocker rule(s) and the page will load as expected.