Serayah Ranee McNeill 
(born June 20, 1995) is an American actress, singer, and model who is a friend of
Taylor Swift
.
Career
Born in Encinatas, California, Serayah is best known for her work as singer Tiana Brown on the Fox drama series Empire, which is her first big acting role in a television series. It is also her first major acting role. She also appears as Dilemma in Taylor's Bad Blood music video. Two songs that she did on Empire, "Keep It Movin'" and "Drip Drop", appear on the show's season 1 soundtrack.
Friendship with Taylor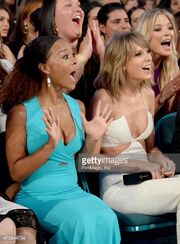 Taylor and Serayah have mutual friends in common, and she even spent the 4th of July at Taylor's Rhode Island home. She also sat next to Taylor at the 2015 Billboard Music Awards.
Ad blocker interference detected!
Wikia is a free-to-use site that makes money from advertising. We have a modified experience for viewers using ad blockers

Wikia is not accessible if you've made further modifications. Remove the custom ad blocker rule(s) and the page will load as expected.