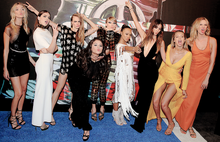 Squad is a term used by the media to describe Taylor Swift's large yet close-knit circle of friends. The fact that some of her friends are successful models, actresses, and singers has also attracted attention.
Taylor's squad includes actresses such as Jamie King, Hailee Steinfeld, Sarah Hyland, and Emma Stone. Singers such as Lorde, Selena Gomez, Ed Sheeran. Models including Martha Hunt, Lily Aldridge, Karlie Kloss, Gigi Hadid, and Cara Delevingne are also a part of the squad. Many of the people in the squad have even appeared in Taylor's Bad Blood music video as well as onstage with Taylor at various stops during her 1989 World tour. Several were with Taylor at the 2015 MTV Video Music Awards and have stood by her whenever she has been blasted by others such as singer/actress Miley Cyrus.
Cosmopolitan magazine has created a timeline for when all of her squad members joined. [1]
Members Of The Squad
Abigail Anderson
Karlie Kloss
Selena Gomez [2]
Britany Lamanna
Martha Hunt
Gigi Hadid [3]
Cara Delevingne [4]
Lily Aldridge
Ed Sheeran
HAIM (Este, Danielle, and Alana Haim)
Lorde
Ellie Goulding
Lena Dunham
Jack Antonoff
Blake Livley
Hailee Steinfeld [5]
Serayah
Zendaya
Jennifer Lawrence
Claire Kislinger
Emma Stone
Sam Smith
Hayley Williams
Sarah Hyland
Ruby Rose
Serena Williams
Dakota Johnson
Gracie Gold
Suki Waterhouse
Michelle Singh
Tara Summers
Sienna Mller
Gwyneth Paltrow
Andreja Pejic
Kellie Pickler
Julianne Hough
Hillary Duff
Lauren Conrad
Ina Garten
Ashley Avignone
Dianna Agron
Nicki Minaj
Kelly Osbourne
Rachel Platten
Kelsea Ballerini
Halston Sage
Joey King
Kate Upton
Amanda Seyfried
Georgia Nott
Candice Swanepoel
Behati Prinsloo
Ingrid Michaelson
Camila Cabello
Additional friends
She has also been found to chat with Felix Kjellberg, also known as YouTuber Pewdiepie.
Ad blocker interference detected!
Wikia is a free-to-use site that makes money from advertising. We have a modified experience for viewers using ad blockers

Wikia is not accessible if you've made further modifications. Remove the custom ad blocker rule(s) and the page will load as expected.