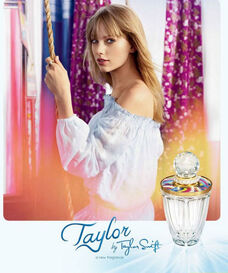 Taylor By Taylor Swift is Taylor Swift's second perfume. It's self named, making it the only Taylor Swift perfume to not be named after a song or lyric. It was released in June 2013.
Like the Wonderstruck perfume, Taylor By Taylor Swift's scent has been made into a body lotion, solid perfume pencil and scented hair mist. For a limited time bright neon green Taylor By Taylor Swift tote bags were given for free to people who bought the perfume.
Taylor released a spin-off fragrance, Made Of Starlight, on February 1st 2014.
Product Description
Edit
According to it's description on Walmart's website
"Taylor by Taylor Swift is inspired by the songstress' magnetic personality, and is for the fun loving, easy-going woman who wants a fragrance that matches her energetic spirit and individualized fashion sense. Taylor by Taylor Swift is beautifully crafted from luscious fruits, blushing florals and soft woods. The fragrance begins with a burst of fresh fruits and flowers, blending luscious lychee and sparkling tangerine with a whisper of magnolia petals."
Appearance
Edit
The Taylor By Taylor Swift bottle is clear with green, blue, white and purple swirls at the top. The cap of the bottle is clear and round with some pearls wrapped around it. Gold lining is on the top sides of the bottle as well as on the sprayer.
Ad blocker interference detected!
Wikia is a free-to-use site that makes money from advertising. We have a modified experience for viewers using ad blockers

Wikia is not accessible if you've made further modifications. Remove the custom ad blocker rule(s) and the page will load as expected.